Most often, they each have full time jobs, freelance commitments and/or other life going on – so we're eternally grateful they also make us a priority, because we couldn't do it without them!
Perhaps you know someone who took part this year, or maybe you'd like to be on the 2019 team? Read on to learn about each team, who was involved and how to get in touch if you want to volunteer next year.
Board and Management
The backbone of our team is the Board – Paul Rispens, Monique van Dusseldorp and Mie Dries. All three have been involved for the past 10 years, as treasurer, program curator and video partner respectively. Drawing on their collective knowledge and dedication to the event, they provided vision and guidance, which helped make our milestone tenth edition very special.
Thanks to our Executive Director Jacqueline van de Wiel, who joined the team this year. In charge of the TEDxAmsterdam organisation for the last nine months, she collated teams, monitored and assisted with their progress, and made sure everyone was informed. Jacqueline really was a vital connector and leader throughout the event for all teams.
Program Team
This year's program curation was led by Monique van Dusseldorp, drawing on her extensive event curation and moderator experience. She worked closely with creative partner New Heroes, who developed the creative concept for the day. We're grateful to have someone as passionate and dedicated as Monique on the team.
Alongside Monique was Kitty Leering, Jessika Lynch and Wiepke Westbroek. Together these ladies selected speakers and acts, and brought the program to life.
Speaker communication was expertly handled by Rena Streep, who, on the day itself was supported long-time TEDxAmsterdam friend Daria Cohen. New talent Isis Verhaag, who just finished high school but already has an NWO science award to her name, also helped out.

Once a speaker is selected, they undergo a rigorous program of training sessions to prepare their talk. Transforming an interesting idea into a great talk is hard work, but we were lucky to have the best speaker coaches and slide designers in our team.
Tara Phillips of Cause and Affect Speeches led the speaker coach team this year. Her team included Elza Kuipers and Sonja van Eeghen. Jessika Lynch also contributed here, along with Ryan Millar, David van der Meulen, and Jarek Sacharski. We were also thankful to have pitch specialist David Beckett on the team, who also trained the TEDxAmsterdam Award finalists. And last but not least, Sander Reijn advised our speakers in creating their best presentations.
Our partner New Heroes developed the creative concept for the event – including the opening act, BigxBrainstorm, puzzle-piece concept, and birthday cake! We're thankful to New Heroes Director Lucas de Man (who was also event host), Jasper van den Berg (BigxBrainstorm), Emiel Rietvelt (producer) and Pascal Leboucq (puzzle concept) for their input and enthusiasm.
To complete their team, we worked with Martijn Reijners of Chain for a beautiful light plan, and we again worked with our favourite stage director to make sure the whole show ran smoothly: Frans Huijsmans. Jan Douwe Rekers was responsible for the production of the stage program. We cannot thank them enough!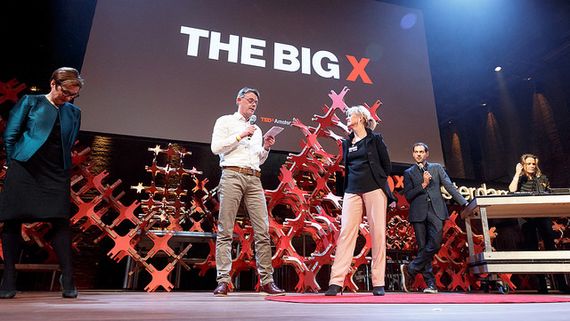 The board gives thanks at the end of the event (credit: Alessandro Froio / Flickfeeder)
Experience Team
A great idea became an incredible experience thanks to the Experience Team, who were in charge of a wide range of special projects, which helped make this year so memorable!
We thank team lead and TEDxAmsterdam veteran Quirine van Asperen de Boer for the time and energy she's given to the last four editions of the event. A multinational conference organiser for many years, Quirine has now started a new life as a counselor at ZinniG.
She coordinated an amazing team, including Jasha van der Wel, Lokke van der Wal and Diana van Oord. Together with Nieuwe Helden, they organised the BigxBrainstorm – and with more than 70 additional speakers, this was no easy job!
Siebelien Defesche had a very special mission this year, together with Emma Rutte from the Production team: let them eat cake! That meant finding 2000 pieces of birthday cake supplied by dedicated Amsterdam bakers. Siebelien made sure that the whole TEDxAmsterdam audience ate cake, which we're sure enhanced the experience!
Hester de Vries and Karen Lagerweij took on the organisation of the opening act. They worked with over 90 10-year-old children from four Amsterdam schools to understand their ideas about The Big X, and illustrate them on puzzle pieces. Their puzzle pieces were the first to feature (and be discussed) on the main stage during the opening.
Communications Team
The Communications Team was in charge of communicating TEDxAmsterdam with all stakeholders, including sharing stories, key announcements and the talks (post-event)! From mailings to blog posts, outdoor campaigns and press, social media and a brand new website, it was nearly impossible to miss The Big X!
This year, seven time TEDxAmsterdam veteran Michiel Daalmans (Strategy Director of Aan Zee) selected and led the team. He was responsible for the general strategy and directing the content, PR, social and photography leads. Next to this he managed the development of the brand new website and event app, with the support of Coen Rispens.
Our Content Lead was freelance writer and content specialist Jai Morton. She coordinated each team's communication needs and planned content development, while managing the team of content creators – Evelyn Grunau, Emily Bingham and Selma Lemsaadi. She also worked closely with our Social Lead Lisa Carbone, who coordinated social media strategy, scheduling and engagement across our channels with the support of Elena Bressan.

PR was in the capable hands of PR Lead Janine Hurink. She liaised with the press and online influencers and coordinated our special speaker announcement campaign across the city, working with our speaker Laser 3.14.

What would TEDxAmsterdam be without great photos? This task was in safe hands with Mike Breeuwer of partner Flickfeeder, who for the fifth year in a row, led the photography team. Event photographers were Alessandro Froio, Annet de Graaf, Charles Ruys, Chiel Eijt, Lia Zaal and Yani Verschuuren, managed by Evelien de Vries. Their images are live on our Flickr page and are published with a creative commons licence (so you can use them freely for non-commercial purposes, provided you credit the photographer).

If you saw our stunning outdoor campaign around the city, that's thanks to creative partner North VCA, coordinated by Marine Rabier and Janine. They were complemented by hands-on designers Tom Ruys, who also created many of our social media assets, and Marc Daalmans.
Video / Live stream Team
Heading our Video and Live-streaming team was Thomas Mulder, managing director of We Are Live and producer at Level V, our partners for live-streaming and video production since the beginning! Thomas knows exactly what he's doing, connected so very well with our production partners and 'just made it happen'!
TEDxAmsterdam was captured on video with 9 cameras, directed by Marck Feller. At the same time, a team of editors was working on the post-production of the talks almost in real-time, allowing us to upload all talks and over 100 video snippets the same day. In the same workflow, partner Level V worked on 4 different aftermovies, using their expertise and experience to produce and deliver them within 24 hours after the event.
Together, their efforts enabled so many people to join the event from the surroundings of their home or office, and help us to show the world how amazing it was. Being able to share content of 10 years TEDxAmsterdam really enables us to 'keep the vibe alive' year round. Thank you!
Award Team
Every year, a great number of visionaries compete for the TEDxAmsterdam Award – individuals working towards creating change. At TEDxAmsterdam, the five finalists pitched their stories to the audience – but before and after that moment, a lot happens.
The selection process involves two rounds of consultation with experts and the Award Jury, as well as a thorough check on ideas submitted. Who makes this happen? Lodewijk Kleijn has led the award team for many years. Alongside Lodewijk was Vera Slegten, Marc Nieman, Carolina Ulloa Parra and Bas Stok.
Together the team organised workshop sessions and support for participants and drove the energy and collaboration in the Award community. A special thanks to our partner experts and jury members Willemijn Verloop (Social Impact Ventures), Jeroen Ouwehand (Clifford Chance), Josu Devasia (Tata Consultancy Services) and Hugo de Bruijne (Aan Zee). They contribute their energy and expertise in supporting the Award contestants in driving tangible change in environment, healthcare, technology, social engagement and more.
Partner Team
Thanks to our partner team, we are honored to have the most creative, inspiring and innovative companies working with and supporting us.
The 2018 partner team was led by Maartje Symons and Katya Novic. Maartje led all in-kind partnerships, connecting quite a number of new (media) partners, while Katya was the main contact for our cash partners. They worked together with Amber Weil, our Legal Lead in charge of all contracts and agreements with partners. Ravit Shani Levi was also an incredible support, alongside Rachel Chu and Sylvana Knaap, who managed the accounts of a number of partners.
The team also put a great deal of effort into further professionalising the way we work with our partners, creating a matrix and tier of partner offerings. A lot of their work wasn't visible for the outside world, but meant and means a lot for the future of TEDxAmsterdam.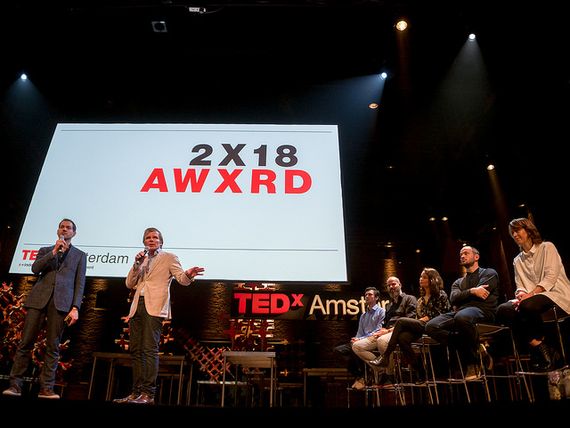 Lodewijk during the Award pitch (credit: Charles Ruys / Flickfeeder)
Production Team
The production team was newly formed this year, consisting of all 'fresh' team members headed by team lead Laura Mulckhuijse, a seasoned freelance event manager. Laura connected several professionals from in and outside her own network, forming a strong production team: Marilyn Donkor, Emma Rutte, Annemarie van de Water, Dominique van der Pauw and Brechtje Peters. In the last months before the event they connected to our production partner Events in Business, with a special shout-out to Jolanda van Alphen, who in the end really felt like 'one of the team'!
The team was in charge of all practical organisations, from connecting to the venue, set-up, transportation of materials, and getting all decorations in place. We're thankful for their endless know-how, energy and motivation!
Volunteer Team
Head of the Volunteer Team was Jern Ken Chew. Ken led the team with the support of Laura Ghitoi, Julien Horvath and Jennifer Korevaar. He coordinated, reviewed and screened all volunteer and team member applications – making sure the right people were paired with the right task. He also connected with other team-leads to manage expectations and volunteer allocation to ensure smooth operations of TEDxAmsterdam. Laura was often the first contact person for volunteers – allowing Julien to help Ken set up the team and Jennifer to focus on volunteer distribution and operational tasks. Thanks to this team there were 70 committed volunteers at the event, who really were a valuable part of the day.

On that note, meet the members of our wonderfully diverse day-volunteers team:
Akash Raj Komarlu Narendra Gupta, Alexander Lamprecht, Alexandra Tkanova-Growd, Amarendra Gorai, Anna Sazonov, Ayday Jakypbekova, Aziza Moirabou, Bianca Kempenaar, Carolien Ruiter, Charlotte Strijd, Chee Ching Chong, Chesley Ryder, Daria Levashova, Ecaterina Grigoriev, Esra Yildirim, Eva Boumans, Evropi-Nefeli Syriopoulou, Flonja Drenofci, Franziska Mueller, Helen Tsang, Ina Paredis, Ira Clarissa, Joyce Liu, Julia van der Goot, Karolina Sawicka, Karolina Leyta, Kate Brettell, Katerina Kacovska, Kietoera Pendisa, Kristy Bernath, Lidiany Martins, Mandy Ho, Marcela Trocha, Marcelina Adamczyk, Maria Garces Cubells, Mariagiulia Benato, Martyna Burylo, Michelle Delport, Mirjam Achthoven, Nayelli Perez, Olga Yevheyuk, Patricia Simon, Pearse Quinn, Po Hsien Chen, Raluca Dumitrache, Rosalinda Nieuwboer-Cuvalay, Ruben Ruiz, Samar Gamal, Sara Dahmane, Sarah Brinckmann, Sicong Luo, Stefanie Taylor, Teodor Aleksiev, Tuhin Mitra, Vaikundam Shanmuga Velayudham, Rachel Parker, Veerle de Kock, Lidia Timkovskaya, Jess Adams, Clara Russo, Maddalena Monaco, Greg Coppoletta, Salvatore Aljaidi, Dona Popovici, Sandra Bonestroo, you are the best!
Want to be part of the TEDxAmsterdam team?
Every year, we form a new team – mixing young and old, local and international, experts and ambitious amateurs. Some people we know and others we're excited to meet.
If you're interested in being part of the TEDxAmsterdam team, get in touch and tell us which role or team you'd like to be part of. Consider how much time you'd have to give as well. We'd love to hear from you via volunteers@tedx.amsterdam. We'll be in touch closer to next year's event!
*header image by Alessandro Froio / Flickfeeder.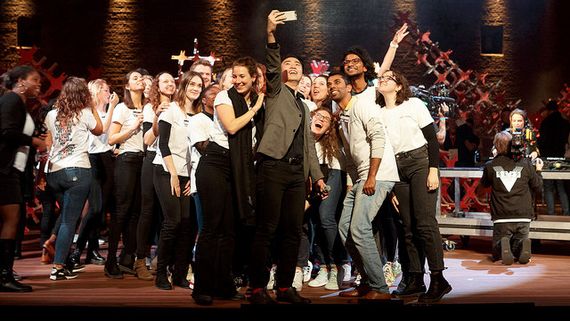 Ken orchestrates an on-stage volunteer selfie (credit: Alessandro Froio / Flickfeeder)