Located on the 18th floor of A'DAM Tower is one of our partners, A'DAM&Co. , a member's club for the creative industry situated in Amsterdam. "The club opened 2 years ago and currently offers 600 creative minds an inspiring place to work, co-create, and meet each other," says Amber Steenbergen, Manager A'DAM&Co.
Curiosity, ideas and bringing people together – sounds like a good fit with TEDxAmsterdam's values! We got together with Amber to talk about our partnership, our city, and our first 2018 partner event, which took place in their space on 3 July.
What was your first TED experience and how did you feel?
"I downloaded the TED app in order to learn more about certain subjects that interested me. ​I remember I watched a very impressive and interesting talk from Jill Bolte Taylor called "My stroke of insight", about a brain researcher who experienced a stroke herself. Her insights were fascinating and yet so sad, given she had experienced the illness herself."
This also happens to be Amber's all time favourite TED talk!
Why did A'DAM&Co. become a TEDxAmsterdam partner?
"I believe the network of TEDxAmsterdam and A'DAM&Co. members is a perfect fit – curiosity is something we both have in our DNA. We offer an extended program to our members every month including network events, jam sessions, inspirational talks, mindfulness, and much more. The pillars we focus on are inspiration, co-creation, collaboration and crossovers."
"Through this partnership, I believe we are truly able to inspire our members and to bring together both networks. And we only started the partnership one month ago!"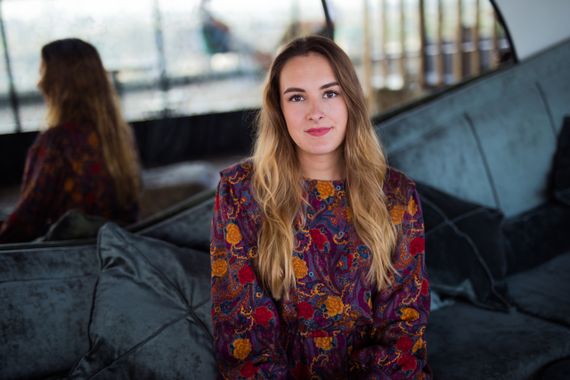 Amber Steenbergen
What do you provide as the partner?
A a partner "A'DAM&Co. provides their location and network for events, such as this year's partner event."
"My favorite part about the partner event on 3 July was all the different people we were able to host. It is super nice to create a bond not only for A'DAM&Co. and TEDxAmsterdam, but also among all the other partners."
As a partner, what value do you see in having partner events before the main event on 29 November?
"It's an opportunity to create new collaborations with all involved."
"And we have the privilege of hosting the upcoming 10 year anniversary party for TEDxAmsterdam in our very own club. How cool is that!"
Very cool indeed! We can't wait to visit and celebrate together on top of our hometown!
What's one thing that you love about Amsterdam?
"The freedom this city offers! Everything in the city is by walking/cycling distance that gives me this village-like feeling I totally adore. The people are also super open-minded. I can wear my gala dress or camping suit walking the street and nobody would mind. I think this is super awesome – you can wear whatever makes you feel good!"
"Also I love the many cultural highlights the city has to offer, such as Hortus Botanicus or getting lost in the Stedelijk Museum ."
"It is brilliant all the things this relatively small city has to offer, it never fails to amaze me."
We are proud to call Amsterdam our home and appreciate the possibility to offer our partners and guests a stunning location, hand in hand with creative and inspiring collaborations, thanks to A'DAM&Co.!
- written by Evelyn Grunau