Our annual TEDxAmsterdam is not just about 'ideas worth sharing' – through the TEDxAmsterdam Award we also champion 'ideas worth doing'.
After our Award jury session took place on 19 November, five finalists were announced.
And now, as part of our extra special #TheBigX event, those five finalists pitch their ideas to our live audience.
Before it all gets underway our Award Director, Lodeweijk Kleijn introduces the award. This year we had 200 applications, 35 were seleted for a workshop with our partners….and then there were five!
And now they get just FOUR minutes each…the clock is ticking!
Pitch time...
First up it's Francis Zoet who explains that one full garbage truck a minute is finding its way into our rivers and oceans and how we can use bubbles to collect this plastic waste and clear up our waterways. The is The Great Bubble Barrier. Whilst it will stop plastics flowing into open water, ships and fish will be able to pass through unimpeded.
Next is Ferdinand Grapperhaus from PHYSEE Technologies. PHYSEE dreams big and acts now…starting five years ago in a lab in Delft university, brainstorming with sustainability leaders and starting on the path to bring their concept for PowerWindows and SmartSkin to life. They are changing the way the indoors and outdoors meet.
Our third pitch comes from Lisa Hu of the Terre-Nova Mini Society, one of a team of three who have designed a storyline board game, currently used in 300 schools. Lisa explains how she thinks it's time for 'Us vs Them' stories to change and for us to face each other and understand each others perspective. "We need a bigger us."
The penultimate finalist is Oliver van Oord from Minibrew. Yearly we consume 185 billion litres of beer; 66% of which is consumed in the home but 95% is water - effectively we ship billions of litres of water around! With Minibrew every beer lover becomes a beer-brewer, it allows you to brew your own beer at home and share recipes, eliminating 90% of the supply chain.
Last, but by no means least, it the Resilient Island Foundation. Sebastiaan Brouwer, one of a group of 5 TU Delft students, transports us form the grey and cold Netherlands to the Maldives. Whilst the weather is fantastic, 95% of the food needs to be brought in and solid waste capabilities are well below what is needed. RIF have pioneered the Maldives Matters Project which will pave the way for similar geographies to become self-sufficient.
And that was it after the pitches... Then it was time for the audience to take over...voting in the apps opened and people had until 16.30 to cast their vote.
Fast forward 2.5 hours and it's announcement time...
There are two winners this year: one from a panel of judges and one as voted by you, the audience...
The finalists return to the stage to applause...but there is a nervous energy in the air.
First come the winner as voted for by the audience; there was a very clear winner and it was...
The judging panel now comes on stage to announce there pick. They were looking for an industry disruptor and while it was clear all finalists were disruptors...there was one who stood out to the judges...
And the winner is ...drum roll from the audience….it's Minibrew…congratulations!
- written by Emily Bingham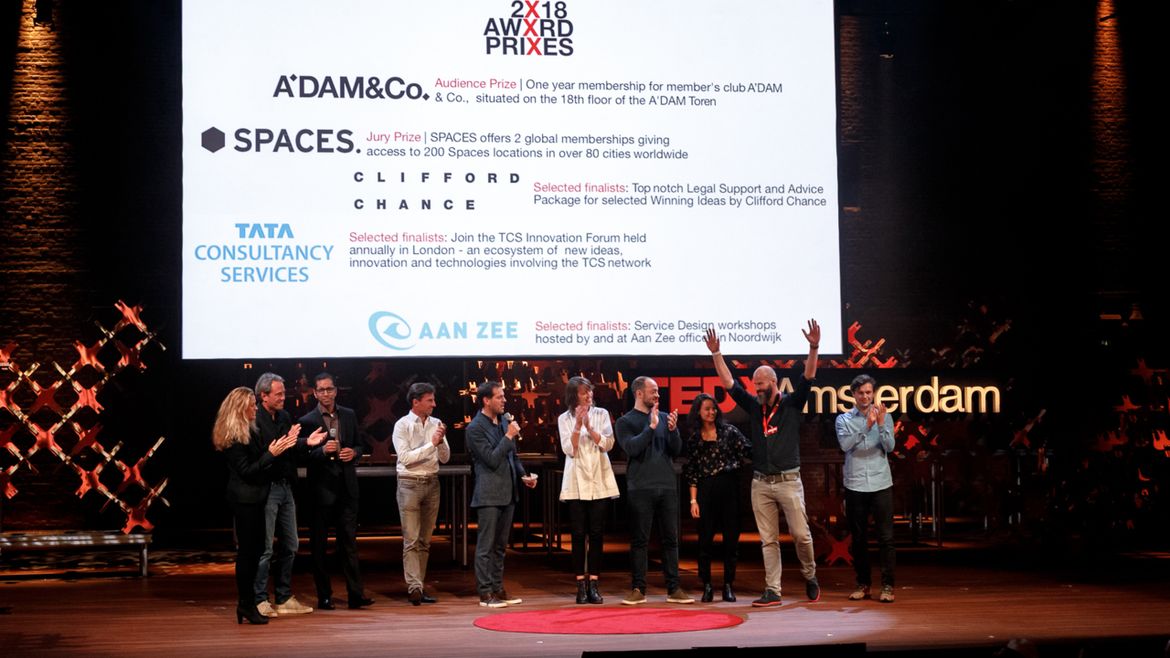 Congratulations MiniBrew and The Great Bubble Barrier (Image credit: Chiel Eijt / Flickfeeder)