Want to read the full recap of last week's Award alumni event? Click here. Or, learn more about the Award, and apply by 12 October here. (But we think you should check out these success stories first...!)
Nico Dingemans – Farm to Fork

2017 Award Finalist Nico Dingemans from Farm to Fork and Avila Beach Hotel described the Award atmosphere well:

"Contenders are from all different backgrounds – from highly educated technicians who have very broad intellectual ideas, and others who come more with a mission or purpose, then some with AI backgrounds or real tech heads," he says.

"When you put them together, it makes it interesting – you're sharing your ideas, setting them next to each other or sometimes building bridges between them.

"That's why you join the TEDxAmsterdam Award, for the meeting of new ideas and to be among like-minded, open-minded individuals."
Nico recalls not knowing what to expect from the Award process.

"As you go along, you hear everyone's stories and realise you might be the first audience to hear their pitch. Then as you go through workshops with Clifford Chance and other partners, it sinks in – just how lucky you are to be there, connecting, gathering information and having your idea critiqued and validated."

That idea was to bring more focus on farm to fork food in The Netherlands. "It was about having corporate Holland – given their high expenditure and volume of dining, eat better – more locally and sustainably."

"The real takeaway from the Award was that I could reach another important audience – people in agricultural and food innovation."
"Where my usual audience was hospitality professionals, students and culinary academics, this new stage allowed me to reach those concerned with sustainability in different ways and I wanted to put food at the top of that agenda."

What now?
Since then, Nico's focus has shifted a little from Holland. "I'm now implementing my idea in a place that needs it more, Curacao."
Nico is the Food and Beverage Manager at Avila Beach Hotel Curacao, where he's working to reconnect those involved in the farm to fork process – chefs, fisherman, farmers, educators, ministries and of course, guests. He's also building a farm at the hotel, where growers make their livelihood and diners can see first-hand where their food comes from.

We love this journey, and the way the idea shifted to an audience that could really leverage it.
Read more about Nico's idea here.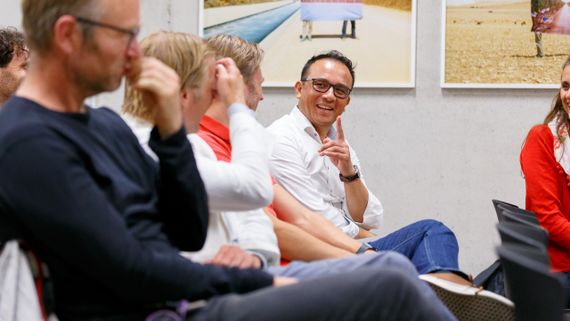 Nico at the Award alumni event
Martijn van Mourik – telemonitoring patients
Martijn van Mourik made it to the top ten 2015 Award contenders. Back then, his idea was really in its infancy – telemonitoring in The Netherlands – a way to monitor hospital patients from home to make more room for those who needed to be hospitalised.

"Being a part of the Award meant that you became much better at explaining your idea simply. The other contenders and workshop experts keep you very focused and are critical, which helped to make sure we didn't take anything for granted," he says.

"We realised that others saw value and validity in our idea, and learnt that we needed to find partners to invest who had mutual goals."

What now?
The experience gave Martijn and his team the confidence to keep going, but using a more scientific approach than a commercial one. They pitched and secured willing partners with like-minded goals, and wrote a project proposal for a subsidy, which, after a year, was granted.

Together with collaborating partners, Martijn and his team secured enough funding to run a 2-3 year pilot project, which will cover telemonitoring and other patient data communication. The pilot will take place at Amsterdam UMC, who are a major project partner.

"The pilot will focus on both hospitals and in-home care in The Netherlands, and we hope to expand internationally."

"The funding is key, but the knowledge and ability to design, pilot and make prototypes that our medical partners have is also imperative."

A great development, where refining the pitch helped to secure vital partners to execute this idea.
Watch Martijn's pitch here.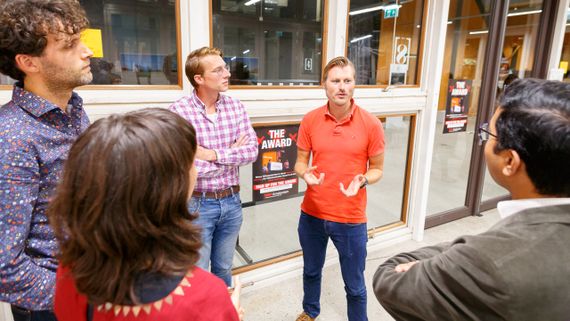 Martijn sharing his thoughts on success at the Award alumni event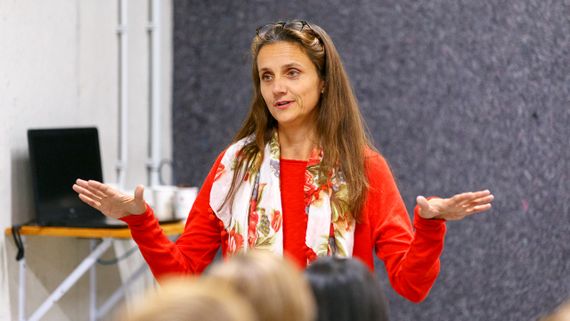 Veronique de Bruijn sharing her Award experience at the alumni event
Veronique de Bruijn – Photanol

Last but not least, we chatted to 2017 Award finalist Veronique de Bruijn from Photanol, a renewable chemicals company processing CO2 and sunlight into valuable chemical products.

This month, Photanol have hit a huge milestone – they closed a significant financing round of 8M euros to build a demonstration plant in Delfzijl.

Reflecting on her Award experience, Veronique says:
"The Award helped me to find a way to convey our story to a much larger audience, to find the words to speak the language of the many people we had to tell it to so that they understood how it could solve their problem."

What now?
Photanol is combating harmful plastic waste. By 2020, the team expects the plant to be operational. Its planned development meant convincing government and commercial partners that the world needs to, and can, move away from burdening the environment. It also means Photanol will be scaling up production of "organic acids which can be used in biodegradable plastics, personal care products and as intermediates for the chemical industry." Timely, in a world calling out for plastic alternatives.

With no wasted time, since the 2017 TEDxAmsterdam Award, we've seen Photanol grow in leaps and bounds, and this achievement really validates the importance of their idea. We know we'll be seeing more of them as the plant takes shape!
Watch Veronique's pitch here.
Apply for the 2018 TEDxAmsterdam Award
Learn more, be inspired by previous Award pitches and send us your idea by 12 October.
- written by Jai Morton.