The Experience Team lead was multinational conference organiser Quirine van Asperen de Boer, who worked together with the core team: freelance online creative communications manager Lokke van der Wal, event organiser and publisher Diana van Oord, marketing professional at Kazoi! Siebelien Defesche, founders and directors of Events in Company Hester de Vries and Karen Lagerweij, and founder of The Experience Enhancers Jasha van der Wel.
Lucas de Man, Jasper van den Berg and Emile Rietvelt of our creative partner Nieuwe Helden were also instrumental in pulling together the 2018 experience, alongside Emma Rutte of the Production team.

Together with Jasper, Hester and Karin lead the organisation of the opening act, which involved coordinating 90 children from four Amsterdam schools discussing and illustrating their ideas about The Big X and illustrating them on puzzle pieces. Meanwhile the rest of the team brought together plans to make the puzzle pieces a part of the day itself. They developed and implemented the BigXBrainstorm – Amsterdam's biggest brainstorm about the future of our city – and coordinated thousands of sweet and savoury treats as part of our birthday celebration.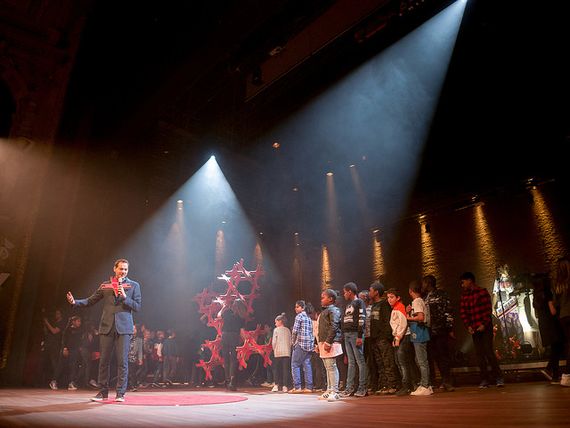 The opening act – TEDxAmsterdam 2018 (credit: Charles Ruys/Flickfeeder)
Great things happen when people come together

The BigXBrainstorm concept was developed by the foundation New Heroes. It featured 96 timeslots lead by more than 65 speakers, discussing The Big X, our future. Speakers focused on five key topics: healthcare, technology, art and culture, humanity and the environment.
It was lead by organiser Lokke, who created the format with help from Jasper (foundation New Heroes), Diana van Oord and Marc Pichel. It really was a pioneering new format within the event, focused on what we can achieve when we come together over issues or opportunities.
"The BigXBrainstorm brought together hundreds of people to do just that. The TEDxTrigger speakers are active or experts in a range of fields – fields we believe are vital to innovate for the future of Amsterdam and the world," says Lokke.
"They each shared an issue or idea with around eight TEDxAmsterdam attendees. Groups then had 12 minutes to discuss their given topic and possible solutions or ways to move forward."
"When someone has a problem or an idea and they share it with others, suddenly the brainpower working on finding a solution or making an impact grows.
"This format allowed us to democratise the event for visitors by making it possible for them to participate and lean in on specific questions from society. It brought The Big X to life."
Ideas discussed included jobs of the future, the decolonisation of institues, to new forms of nightlife, and what people will look like 10 years from now.
"12 minutes might not sound like long, but in that time, and with many minds at work, people were able to collectively develop new ideas or basic plans that could be improved. They then illustrated their ideas onto X puzzle pieces."
If you've read our previous posts, or attend the event, you'll know these pieces were connected together on the main stage throughout the day –resulting in a gigantic puzzle of over 2000 pieces, a stunning display of ideas worth spreading!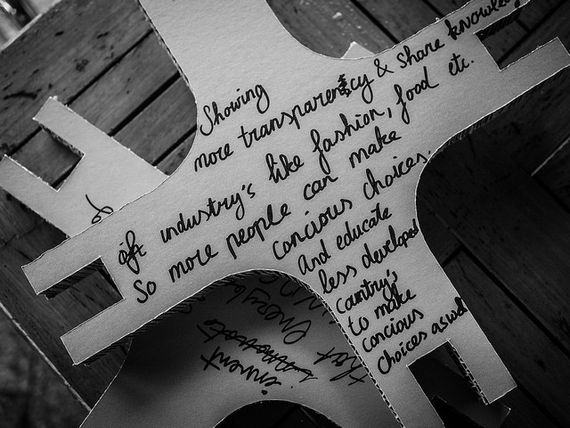 A puzzle piece with ideas (credit: Charles Ruys/Flickfeeder)
Experiencing the experience
Bringing the brainstorm to life was challenging, but a lot of fun for the team.
"It was inspiring to connect with so many people out there working to enhance the future of technology, health, culture and the environment. You almost feel a weird sensation of FOMO when you get to speak to all these people doing these amazing things to improve our well being in the city of Amsterdam," Lokke says.
For some, the experience was food for thought, and for others, it was an invitation to consider a topic or issue they never had before, or a way to connect with like-minded individuals. These connections and conversations are one of the true gems of any TEDx event, often growing into collaborations or projects.
Many of The BigXBrainstorm speakers were left really feeling the power of what it is to share an idea.
One speaker, Judith Blijden of Kennisland, shared her debrief of the experience along with her colleague Lisette. Judith spoke about a technology topic that affects us both individually and collectively – privacy. Her write up reflects what many speakers found – a lot can happen in 12 minutes!
She says, "The outcomes of the brainstorm were impressive – especially since the brainstorms were only 12 minutes long. The initial ideas should naturally be further developed and examined. Most outcomes focused on three elements: awareness, power and governance. I will outline the most important ideas that surfaced throughout the brainstorm."
While the BigXBrainstorm was a part of our 10 year event, hearing about the beginnings of outcomes like this makes us wonder whether it shouldn't become a TEDxAmsterdam inclusion in the future. Imagine what could happen!?

Want to join the TEDxAmsterdam Experience Team for 2019?
Consider getting in touch with one of our Volunteer Team.