It's time for the final session of the day and the BigX is still going strong! We come back to a stunning performance from Lavinia Meijer and her harp, which has the audience spellbound with her performance.
Then a 'random' audience member comes on stage...and we meet none other than Ali B! He shares his view of a BigX focus area – inspiration. Focusing on the 'positive noise'.
Now it's time to move onto the future of the city and technology with Professor Arjan van Timmeren.
"We are living in an age of growth, urban growth...exponential growth"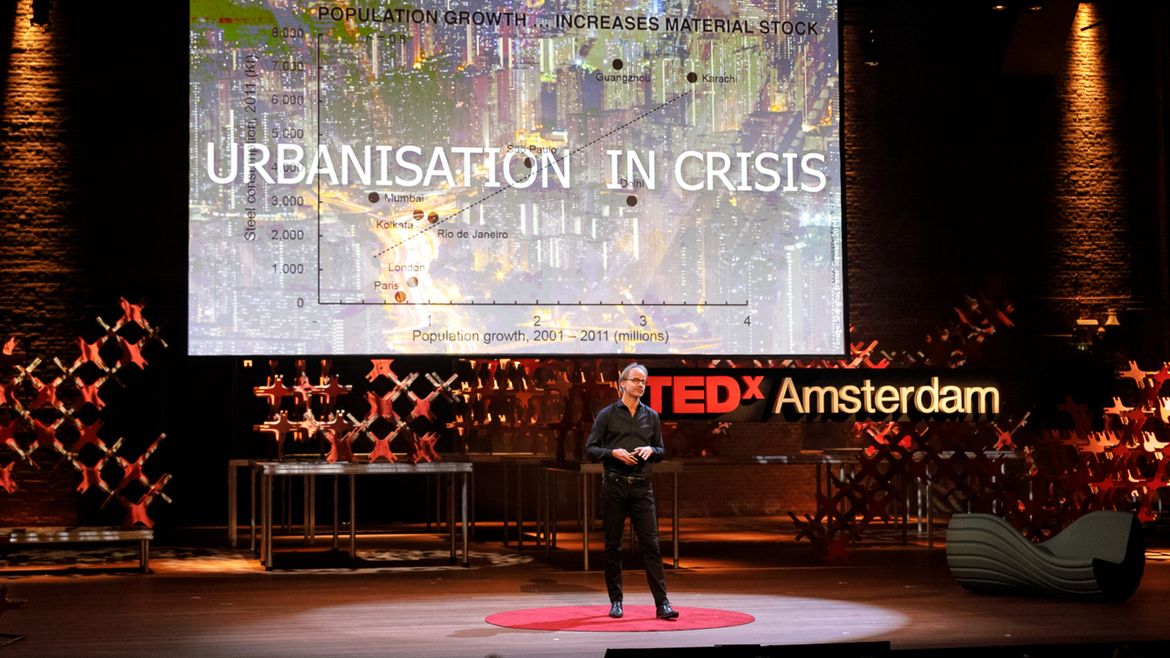 Image Credit: Chiel Eijt / Flickfeeder
He reminds us: when we look at cities, not only do they have a spacial footprint but also an ecological one. A footprint required to deal with the city's needs, whether already established or growing.
Western cities may be the most wasteful, but developing cities need more resources to grow and meet the demands placed upon them. It is up to society to shake the linear approach to resources and resource management, and to find a way to move toward to a more circular one.
New technologies can help us get more of a sence of a city, Arjan says. Leveraging big data can enable us to increase our understanding in areas such as the level of waste, helping us to develop new approaches.
"I think what we could do is think in a different mode. Our future is in the material sources around us."
Arjan takes us through one example – the IAmsterdam sign most of us know and are drawn to. Did you know it will soon be removed from it's current location? ...But what to do with it?
Firstly, can we 'refuse' that waste is created? No, it is created already. Secondly, can we 'reduce' the waste? Well no, it is created! Then, asks Arjan, can we 're-use' it? Perhaps. But there do not appear to be any plans to locate it anywhere else in the city. So then, can we 're-cycle' it?
Well yes, we can. After investigating all kinds of plastic waste an idea forms for Arjan: 3D print your city!
Using plastic waste to produce 3D benches is just the start – and the audience sees a bench made just that way, which Arjan takes a seat on.
But the possibilities are quite endless...bike racks, bus stops, tables, chairs...
Arjan's challenge: "Print your city"
- written by Emily Bingham