Creative agency and long time TEDxAmsterdam partner, WE ARE Pi brought together a team of people to collaborate and realise our final campaign video for this year's event: choreographer Anne Suurendonk, composer Pedro Botsaris (Creative Director / Managing Partner at creative audio studio Antfood), Robert Okker (Co-founder of post production house Darlings), Producer Madlen Folk and Director Boris Booij (both of production company Czar).
Connecting The Big X

You might be wondering why the video is not embedded in this post. Well, before we reveal the final result of this collaboration we want to focus on the people behind it – their contribution, the process and how they feel about being a part of The Big X. It is our theme after all, so reading on gives you some great visuals as to what to expect from the event this year!

Choreographer Anne was included in the process when Director Boris had developed a clear video concept: "The idea was to see the moment of two people who meet and feel a connection. He also had a clear vision about splitting the frame in layers and working with delay, to create a really cool, abstract effect." She says the process of finding the right movements for this project was a challenge: "We explored a range of interesting movements but in the end, found we keeping basic movements worked best."
What does Anne envision The Big X to be?

"When I think of The Big X it makes me think about connections. Connections in the body and connections between people. Things I think about and focus on every day."
Anne Suurendonk, Choreographer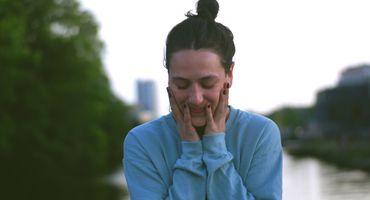 Anne
Motion and music have a strong link. Pedro and his team at Antfood created the soundtrack and crafted the sound design: "WE ARE Pi approached us with the idea of adapting the melody from children's song to work with the visuals and help reinforce the concept of the piece." The brief was: transform something familiar into something new: "We were asked to keep this melody recognizable at first but to transform it into a more complex and intriguing musical idea as the film unfolds. We achieved that by repeating a sample of the original melody while speeding it up at every turn, resulting in a hyper, fast-paced ostinato. Using this as the backbone of the composition, we integrated sonic elements and additional melody lines to create a rich original score."

For Pedro, The Big X:
"It means sharing knowledge, expertise and bringing people from diverse backgrounds together. And this project is a reflection of that – creatives and producers, each with their own craft working together to make a beautiful piece of audiovisual."
Pedro Botsaris, Creative Director / Managing Partner Antfood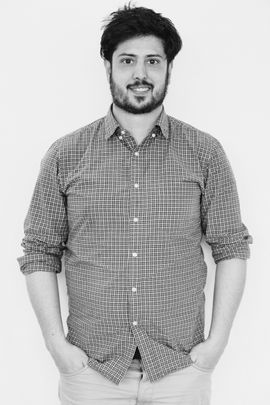 Pedro (Kevin Rijnders Photography)
Czar's Director, Boris, says of producing the piece: "Czar was responsible for the production, which means bringing the idea to life. We figured out how to shoot this film and organised everything around it, including how the material worked together creatively and technically. Of course we also ensured that the TEDx brand was strong."

And Boris and Madlen's take on The Big X?

"I think that every time two people interact, something original comes into existence. For everyone, searching for ideas and ingenuity, I think the TEDx platform creates a space where people come together to bring humanity onwards. You can maybe even see it as the big hive. The place where our minds buzz together and create on a higher degree. The Big X represents this space, especially on TEDxAmsterdam's 10th anniversary."
Boris Booij, Director Czar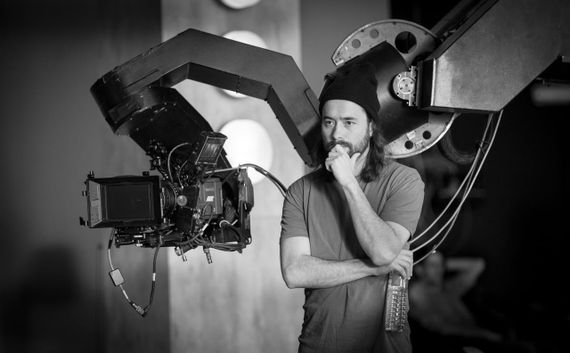 Boris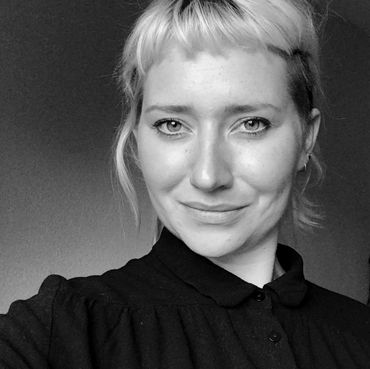 Madlen
"X stands for connection. Connecting people, their visions and ideas is the starting point of every film. For filmmakers it is always enriching to exchange and experience on a different kind of level. This allows us to go through different mindsets, entering new perspectives and worlds. A wider horizon is the result, which causes a deeper understanding for each other and for our surrounding. This in turn is the premise not only for successful innovations, but also peace."
Madlen Folk, Producer Czar
After the shoot comes post production – Robert and the Darlings' expertise: "We had a first meeting with all of the team to discuss the video's storyboard, as well as camera and frame rates for the project. After the shoot, we helped to sort all the rushes and while other team members started working on the edit, we worked our way through the project by testing out shots and visual effects."
"This film is a representation of what TEDx is about, people from different horizons coming together to share ideas, which is the DNA of TEDx. From an event that was first technology orientated and years later is now one of the biggest platforms where people can discover and share new and varied topics every day is a great achievement. We've all watched TED and TEDx content many times, so for us it's a great way to give back."
Robert Okker, Co-founder Darlings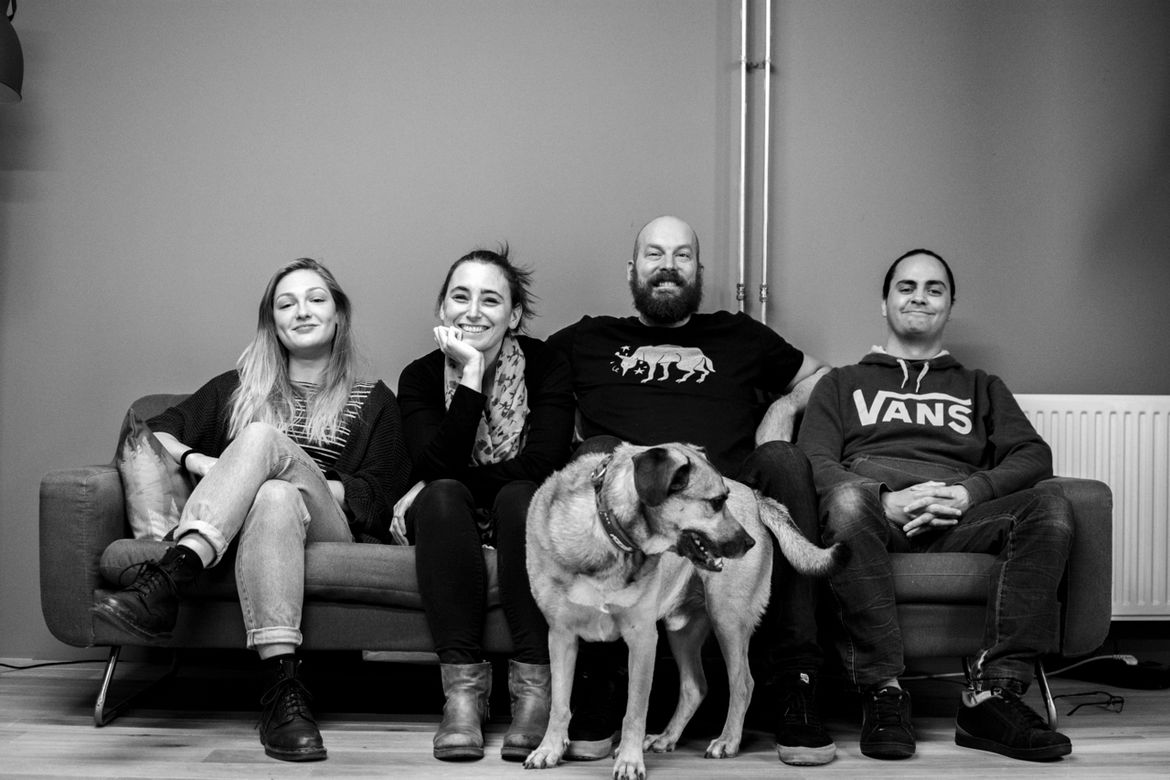 Robert & the Darlings team
Evoking Strong Feelings

We can't say too much about the video publicly yet, but we wanted to show how it feels to be helping TEDxAmsterdam visualise the power of people coming together – especially for our milestone tenth birthday edition.

For Anne, to be able to help TEDxAmsterdam visualise the power of people coming together feels "Natural. It's what I try to do every day with my work. It's what I try to do with the dancers and the audience for example. Bringing them closer together and creating a sense of recognition, and thereby interconnection. Which I think is super powerful and important."

"At Antfood, we think that working together elevates our craft and enables us to create amazing things. We feel especially motivated to help TEDxAmsterdam as we are strong believers of bringing people together to share ideas and expertise" says Pedro. Coincidentally, this year is also Antfood's 10th year anniversary! Congrats! Happy to be sharing this milestone with you guys!

Madlen and Boris share that "it feels a big honour to create an image that symbolises the essence of a platform that sparked many minds. The film tells a simple story about people creating uniqueness in the universe. Uniqueness, by simply making contact."

The film revolves around people creating unique things together. To Robert, the collaborative creation process brought people people together who were open to each other's ideas: "The idea behind it is original and it has been a blast to be able to work with such a great team. The Director and the agency were always open to suggestions and while he had a strong vision for his film, there was still room to play."
Just as WE ARE Pi connected like-minded people, who share values, are open to push boundaries and come together as one, TEDxAmsterdam aims to bring people together on 29 November to experience an inspiring day. Join us in The Big X, either physically at the event or by following the live stream online.

The campaign video will premiere in the coming days! Keep an eye on our social media channels and see the result of this great collaboration! When people get together amazing things happen.
----
About the team

The Choreographer

Anne Suurendonk is a freelance choreographer, 'dancing' in several locations at once, when taking a look at a regular working day: "Most days I have several different workplaces. A typical Wednesday: I teach a 1.5h class in the (late) morning at the Amsterdam School of Arts. After this I go into the studio for a couple of hours to prepare for a workshop, class or rehearsal, maybe create some new movement material. Then I take the train to Utrecht to work with a group of dancers from DOX. As part of a development program for young dancers we work on a choreography, with the support of my colleagues from Artbeat Amsterdam. And CJ, a friend of mine and also an artist, is present in the rehearsal. She is busy filming and taking photos, to create content for my website that I'm finally working on. The rehearsal finishes at 22.00, so I try to have some free time Thursday morning."

The Composer

We asked Pedro Botsaris of Antfood to introduce the studio with offices in New York, São Paulo and Amsterdam: "We are a multicultural, and diverse collective of musicians, composers, producers and technologists working together to realize great work through sound. We create music and sound design for linear media and help our clients strategically with their music and sound branding. We are also heavily involved in developing audio solutions for installation work and emerging media such as AR and VR."

The Producer & Director

Production company Czar has several offices and sister companies throughout Europe, but Amsterdam is its founding city. "This allows an enriching and close exchange with different nationalities and markets," says Producer Madlen Folk and Director Boris Booij about Czar. The company produces commercials, music videos, branded content, documentary and "anything else that demand high-quality production".

The Post Producer

Robert Okker says about the strengths of post-production company Darlings: "Our multi-disciplined artists are passionate about producing outstanding work. We craft stories through motion graphics, visual fx and animation, helping our clients achieve their vision from the very start till the end of the project."
- written by Evelyn Grunau