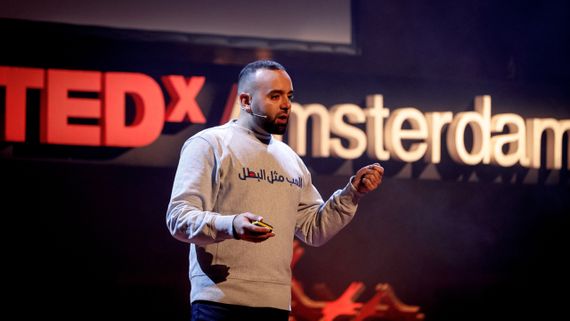 Image Credit: Chiel Eijt / Flickfeeder
What an uplifting start to the BigX. We are challenged to think about the big unknown, the big puzzle and to BE puzzle piece ourselves for the future. Things are kicked off by 10-year-old Tom, taking us through the amazing journey of the first 10 years of life, learning to walk and talk!
Then it over to our host for the day Lucas de Man, who picks up the baton introducing five children who have pondered topics such as reducing our carbon footprint and our stress levels and share their thoughts. The big puzzle is open and anticipation is high in the auditorium.
It's time for our first talk of the day:
The lights dim and the big red dot is ready to welcome its first guest. Toufic El-Rjula, Tey" takes his position centre stage and shares his first memory with us - as a five year old boy fleeing Kuwait as the Gulf War broke out in 1990. Not only did he lose his home and all his toys but years later he would find out he had also lost his identity as birth records were destroyed in the war.
"Every day more than 290 million children under the age of five wake up to the same reality – they do not exist"
Fast forward 24 years and Tey is living in Den Haag living the 'Dutch Dream' when one day his work contract is canceled and thus with his work permit is no longer valid. The next morning he finds himself in Ter Apel Asylum Centre with only his phone and bitcoin wallet.
"I share a story about lost identity, how becoming the Invisible Man gave me the superpowers to break identity barriers using Blockchain technology"
The food is simple and boring, what might be nice for a day or used as a diet for a few weeks can very soon become unpleasant however even with having cash the refugees could do nothing about it, but with bitcoin and thuisbezorged.nl…one problem is solved! Tey began to teach the other refugees about bitcoin and blockchain technology that is open to all as no identification documents are needed to use it.
"Blockchain broke the walls around our financial restrictions…could blockchain be used to break the walls around our identification restrictions…the answer is yes"
After moving between five asylum centres and meeting many other 'invisible' people, Tey began his journey to leverage the technology and create secure digital identities that can never be deleted or stolen. In partnership with NGO's and though discussions with the World Bank and Dutch Government:
"We are working towards a world were identities are digital, secure and private…a world where you control your own identity and you yourself decide with whom to share it"
- written by Emily Bingham