The event took place at our partner, Renaissance Amsterdam Hotel's stunning event space, the Koepelkerk. Guests were welcomed with signature TEDxAmsterdam cocktails – gin and pomegranate makes an excellent combination!

On arrival, guests were also prompted to consider the question: 'What is your Big X?'. Our theme this year, 'The Big X', alludes to the big unknowns of the future. But more than that, it's a nod to our tenth anniversary and a big hats off to Amsterdam, the city we know, love, and have cultivated ideas in since the beginning.

Visualising The Big X
While mingling and enjoying the gorgeous sounds of opening performers, The Wave, guests shared their Big X with live illustrators Anne Kuiper of Gouden Lijntjes and Babette Schrijft, who visualised each person's interpretation.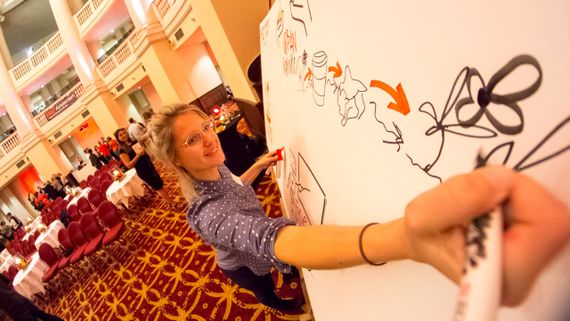 Illustrator Anne.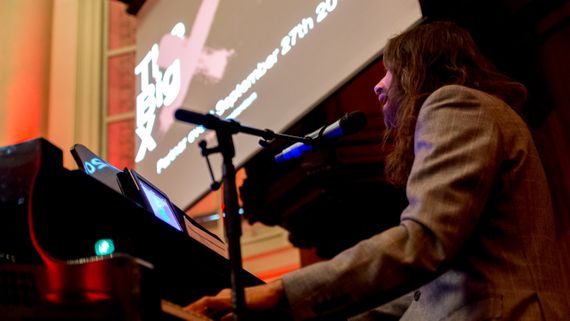 Artist Refael Mirila from The Wave.
Following a warm welcome and introduction to our stunning venue from Hotel General Manager Ken Millar and a formal welcome from our Executive Director Jacqueline van de Wiel, Board Member Monique van Dusseldorp shared some juicy details with the crowd.

Four speakers were revealed – which you'll hear about on social soon enough – and TEDxAmsterdam Award and communications team members updated guests on some of the amazing Award applications coming in, and how TEDxAmsterdam will be visualised around our city. PR Lead Janine Hurink reiterated our goal to really bring the event to the whole city, not just those who attend in person. Thus, the live stream is set to be shared in some key locations around our city, where anyone can view the day for free – don't worry, if you're planning to tune in, we'll be announcing these locations on social closer to the event.

Puzzle Pieces
Jasper van den Berg from creative partner Company New Heroes then kicked things into high gear – expanding on the theme and introducing an interactive Amsterdam-first and a tactile element to the evening. Both had links to what to expect on 29 November. And if speaker announcements didn't peak people's intrigue, this certainly did!

"The Big X stands for the big unknown – it represents the answers we seek to the questions we have, or need to ask, about the future. It's about Amsterdam's future, and society's future at large. For this ten year milestone TEDxAmsterdam event, we've been looking back at all that has happened and been achieved, but of course, we are also very much looking forward – ten years and beyond," Jasper said.

"The future is one big puzzle and everyone is a part of it. We need input from all people about future challenges and opportunities, because we are all a part of the future."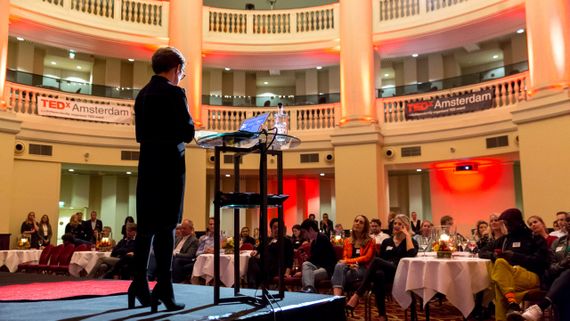 Monique van Dusseldorp provides a sneak peak into some of this year's speakers.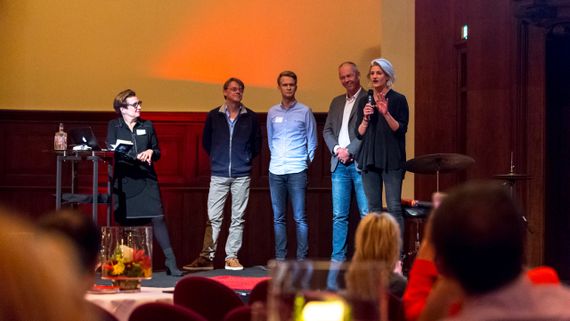 An update on what's to come...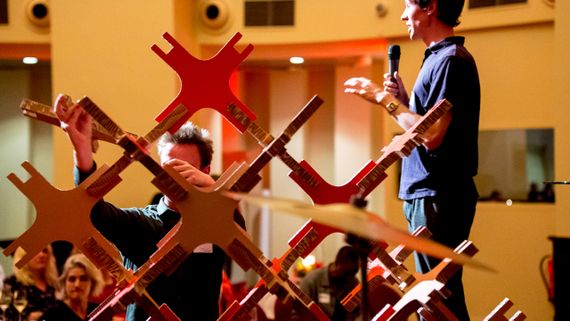 Puzzle pieces were connected as Jasper addressed the audience.
The biggest brainstorm of Amsterdam
Jasper then introduced 'The biggest brainstorm of Amsterdam about the future', an Amsterdam-first that will take place at none other than TEDxAmsterdam 2018! We won't give away too much about this experience yet (but this will be one exclusively for event-attendees). Guests were then immersed in a mini version of the brainstorm, which involved groups working together to find solutions to some big questions.

This was an intimate and engaged part of the event – groups listened and discussed intently and passionately, and in a mere ten minutes arrived at some diverse and interesting outcomes. Some discussions lead to more important questions, while others swiftly grew to business ideas and tactics! The brainstorm was full of lessons and ideas on how to improve it for the the Big X, and was a clear indication of how amazing things happen when people come together.

Jeroen de Bruin of Main Partner Clifford Chance said of the experience:
"I found the brainstorm interesting. I was impressed with how fast a group of people were able to come to an idea or approach a solution based on the topic they were given."

We really do believe in the power of people when it comes to solving the challenges of the future! What's more, we also think visualising the ideas and journey along the way is key to communicating and even implementing them – so our live illustrators then drew a second masterpiece, this time with each groups' brainstorm thoughts, ideas and outcomes.
Drawing things to a close, Wim Does played the Koepelkerk's incredible Bätz organ, immersing us in a grandiose sound. Partners and team members connected and re-connected, now buzzing with renewed expectations for what's to come on 29 November.

Indeed, it won't be long now!

Haven't got a ticket yet?
Don't worry. While our Regular Tickets have sold out, you still have the opportunity to join The Big X (and take part in Amsterdam's Biggest Brainstorm for real!). Check out our Friends Package – your ticket to all things TEDxAmsterdam, above and beyond the standard program!

Check out images from the event via our partner Flickfeeder here.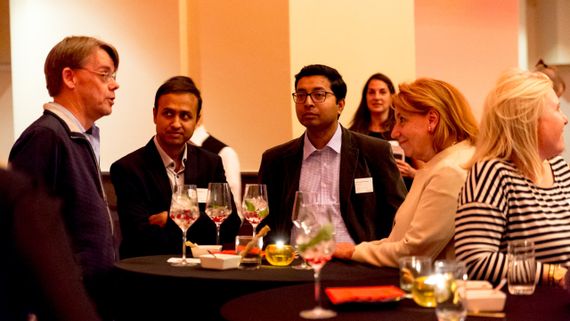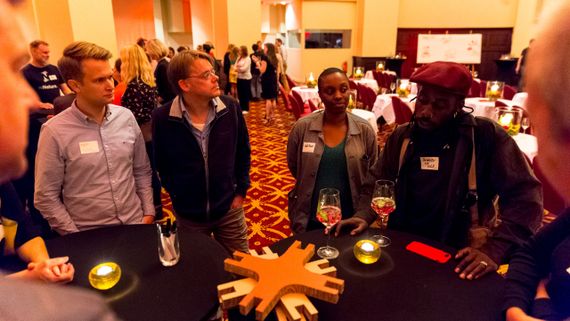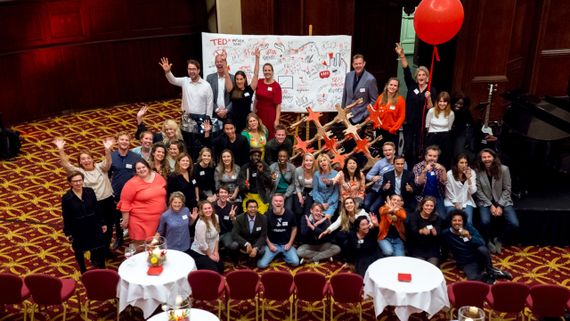 Attendees with the brainstorm illustration.